Saturday, June 09 2018 @ 06:56 am ACST
Contributed by: Wesley Hull
Views: 2,779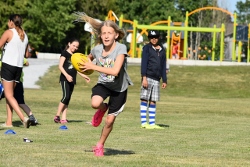 Australian Football has again captured the attention of Canadian media in this excellent and enlightening story from Grace Kennedy at the North Delta Reporter in Vancouver. The work of Mike McFarlane and his dedicated team at North Delta has long been known within Australian footy circles, but more and more  their work is capturing the imagination of an ever-increasing public.
"The local league is perhaps the largest in North America, and holding strong."
From a distance, the group of kids kicking a ball back and forth on the Gray Elementary field look like they are practicing soccer.
Walk a little closer, and you notice the ball is definitely not a soccer ball. It could be a rugby ball, with its oval shape and bright colour. Look across the field, and another group of athletes are in a star formation, practicing drills. They could be practicing football, passing the ball back and forth in a criss-cross formation.