Wednesday, May 15 2019 @ 11:10 pm ACST
Contributed by: Troy Thompson
Views: 3,966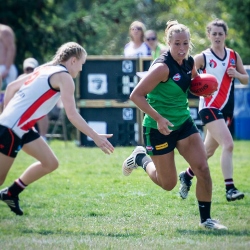 Since the early days of the USAFL, American players have travelled to Australia to bathe in the full experience of being at an Aussie rules football club in Australia.  Most come to play the game at the highest level they can, some are happy just to play a game anywhere, while others will consult a USAFL team mate from Australia to hook them up with their old club. 
Probably the most successful of those players (on a long term playing basis at state level) who came to Australia on their own initiative is Alex Aurrichio.  Originally Aurrichio attended an AFL combine in LA before playing footy with the New York Magpies.  He then came to Australia, worked around a number of clubs before ending up at Carlton's VFL affiliate the Northern Blues where he played multiple seasons before moving to the SANFL and NEAFL leagues.