Monday, April 08 2019 @ 01:11 pm ACST
Contributed by: Wesley Hull
Views: 4,008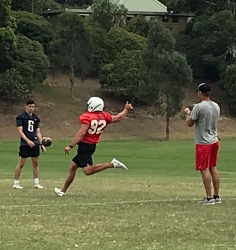 Nik Constantinou has a dream. He wants to be a punter in American football, and is well on the road to that dream.
We see a great deal written about the journey other "cross coders" have made in leaving their homes overseas to try their hand at Australian Rules football after having played a range of sports including Gaelic Football, soccer, basketball and many more. We have also read about the drive to do so and the reasons behind the attraction.
But we rarely, by comparison, read about the motivation of Australians who do the reverse: leave behind a life in Australian Rules football to go to the United States of America to give punting a go in American Football (Gridiron – maybe NFL).
Nik has shared some of his insights into a journey he has commenced to chase a relatively new dream – but a dream just the same.