Monday, April 13 2020 @ 07:00 pm ACST
Contributed by: Wesley Hull
Views: 1,870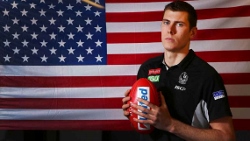 The following story from Marc McGowan at the www.afl.com.au website is an excellent look back at Mason Cox's AFL career and the journey to get to where he is today, starting back in the United States. Cox has already enjoyed an almost unexpectedly impactful career, and is likely to leave a great legacy for future prospective players from America.
Mason Cox's unlikely journey from end-of-the-rotation college basketballer to playing on Australian Football's biggest stages has won him fame he never thought possible.
Remember, this is a guy who'd never heard of the AFL and travelled to Australia to meet five clubs, unsure whether the competition was "like an eastern European basketball league that could fall over after a year".
Few football fans will forget Cox's performance from the 2018 preliminary final, where he became the Richmond slayer with a match-winning four-goal effort.