Tuesday, April 20 2021 @ 02:50 pm ACST
Contributed by: Wesley Hull
Views: 14,024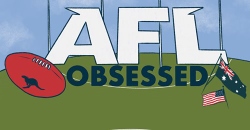 Over the past twelve months, as the world has come to grips with the ravages of COVID-19 and its fallout, Australian Rules Football has had its own journey. Whilst on the home front, footy continued at the highest level (though not really at more grassroots levels), a different story played out elsewhere.
In the United States, local sport ground to a halt. Most people rode the situation patiently waiting for their beloved sports to return to playing fields or cable TV. But many stumbled across Aussie Rules with Foxtel matches live and through replays capturing a whole new breed of fan.
Among those is Rosanna. From a life where our game did not have a place in her life, she now has her own podcasts and social media platforms under the banner of AFL Obsessed where she discusses the game with anyone wanting a chat, and also supports her beloved Essendon Bombers to anyone who will listen - I do! But how is is that a young woman in New York City can become so fixated with our game in a relatively short period of time?
Here is my interview with Rosanna explaining just that.