Thursday, February 11 2021 @ 07:30 am ACDT
Contributed by: Val Barber-Axthelm
Views: 2,946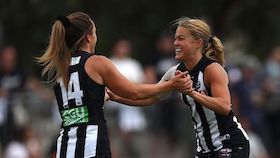 Round 2 was full of excitement. Several game schedules got changed due to the quickly-changing landscape of Australia border laws. Let's take a quick look a how our international talent faired in the matchups.
(Image Source: Getty Images via AFL Images)


Western Bulldogs (6.6.42) v. Carlton Blues (5.6.36)
Friday, Feb 5th

Bulldog Danielle Marshall, #26, was omitted from the lineup this week. After spending a few games last year and round 1 stepping in for injured rucks, it has been a bit since she's had the game-time to prove herself on the forward line. We hope to see her back kicking goals soon.