Sunday, September 19 2021 @ 09:58 pm ACST
Contributed by: Wesley Hull
Views: 8,239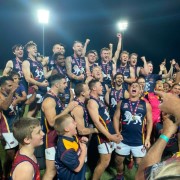 Yesterday in the AFL Cairns competition, the Cairns City Lions defeated the Cairns Saints by 11 points. It was their first flag for a little less that 13,000 days (for those who like to count such things), but there was something far more significant about this win. This time we only need to go back a bit over four years to complete a remarkable footy story.
(Image: AFL Cairns)
I was lucky enough (in a sense) to be on the field back in late 2017 wearing a Cairns City Lions jumper as they went down horribly by 290 points to the South Cairns Cutters. That day I played mainly forward or bench. Either way I was in a great position to watch a massacre that many would see as the nadir for the Lions. It was the day that a crossroad became real. The club had people like myself and some other Pyramid Power lads fill in to ensure they fielded a team. They had no reserve grade. With less than 20 players on their list, a terrible season on the scoreboard and potentially some sponsorship fallout, the future, that day, was grim.