Monday, June 08 2020 @ 09:45 pm ACST
Contributed by: Wesley Hull
Views: 3,364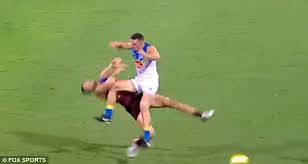 Back in 1978, the crowd at Kardinia Park in Geelong held its collective breath as North Melbourne's Keith Greig fearlessly ran at a high ball on the wing. Coming the other way was Geelong's Ray Card. Greig never wavered or looked at anything but the ball. Card saw trouble coming and changed to a side on shirtfront – hammering Greig and knocking him senseless.
Back then it was considered a brave act by all parties. Today, the same move would result in suspension (consider Shane Mumford's hit a few years back against Geelong's Mitch Duncan…some eerie similarities).
In different eras, each represents the brutality of our game. Whilst the rules that define what constitutes legal and illegal tackles have changed, the ferociousness of players and courage have not.
What made the Greig/Card hit more memorable was that it headlined football media just three years after the tragic hit at the Western Oval in 1975 when Footscray's Neil Sachse was left a quadlaplegic after a horror collision with Fitzroy's Kevin O'Keefe.