Div 2 Grand Final Preview, Part 1: Croatia's Path to the IC, From the WFN Archives
Thursday, August 17 2017 @ 12:02 pm ACST
Contributed by: Aaron Richard
Views: 2,163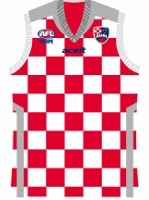 This year's International Cup sees two debutant sides squaring off in this Friday's Division 2 Grand Final - the high-flying German Eagles and the uncompromising Croatian Knights.
For both sides, it's been a long time in the making, with over 10 years since the beginnings of domestic footy in Croatia and around 20 years in Germany.
We take a look at the history of the two countries' footy scenes, with some of the stories featuring them on WFN over the years. In Part 1, we look back at some of the stories out of Croatia over the years.
2004: Croatian footy's roots go back to movements in 2004, when Kolja the "Croatian Crusher" Koracak moved back to his native country after learning the game in the Arizona AFL metro competition in the USA. He met with Sash Herceg, a Croatian who had moved to Australia as a teenager and played footy in WA and Victoria, before also returning home with an urge to start footy in Zagreb.
Croatian Converts hope to bring Footy to the Balkans.
2006: The Zagreb Giants' squad slowly grew until they were finally ready and able to put a team on the field for competitive play. Plans were made together with the Czech and Austrian footy sides to start a regional tri-nations tournament. The Croatians won their inaugural hit-out at the Schnitzel Cup in Vienna, then hosted the other sides in Zagreb. The year closed with the Croatians visiting Prague for the third leg - including the new Finnish Lions squad for the Central European AFL Championship.
Tri-nation comp planned for Austria, Czech Rep and Croatia.
Croatians make international debut and win Schnitzel Cup - UPDATED with scores.
Croatia two from two in the Eastern European Tri-Nations.
Finnish Lions defeat Croats, Czechs, Austrians and French for the CEAFL Cup.
In 2007 English powerhouse club the West London Wildcats visited, and later that year they again took part in the CEAFL championship, which was again won by Finland.
Zagreb Hawks warm up for 2007 against West London.
Finland win CEAFL for second year running.
2008 saw the CEAFL come to Zagreb, and the Croatians make their EU Cup debut, taking the silver. This was followed in 2009 with the Croatians hosting the EU Cup at Samobor, near Zagreb, where they had a strong showing but ultimately only made third.
CEAFL comes to Zagreb for 2008.
2008 EU Cup preview - France, Croatia, Czech Republic and Catalonia.
2009 EU Cup heads to Croatia.
2010: The Croatian domestic league swung into full gear, with the creation of the Velika Gorica Bombers joining the established Zagreb Hawks and Agram Power for a 3 team local league.
The Croatians also made their full-field debut, competing at the inaugural 16-a-side European Championships, and whilst they finished down the table a bit, they did through for their first full-field footy win. Their defeated opponents in that first win? None other than Germany... is that an omen? Later in the year, they became 9-a-side European champions on their third attempt, defeating powerhouse Ireland in the final of the EU Cup in Milan, Italy.
Croatian Local Comp expands with Velika Gorica Bombers.
Croatian Knights hoping to bring 9-a-side Success to Full Field Footy.
Croatia upset Germany to score first-ever win.
Knights defeat classy field in Euro Cup.

2011: The Knights, with a strong core of around 40 regular players, were seen as an early chance to make it to their first International Cup, however a lack of sponsors made the financial hurdles too large to overcome.
Croatia seeking sponsors to get them to IC11

In 2012, a further local club was started, with the GWS-aligned Zaprude Giants. In 2013 Croatian-Australian footballer Ivan Marić from AFL club Richmond signed on a footy ambassador for Croatia. The Knights were still hopeful of making it downunder for the 2014 International Cup, having brough Irish footy pioneer Ciaran O'Hara on as national team coach. On a domestic level, the Zagreb Hawks won their first Croatian premiership, with the local league having three Croatian sides and the Downunder Dogs from Graz, Austria.
GWS links to Giants in Croatia.
Ivan Marić joins the Croatian Knights as Ambassador.
Croatia 2013 – The Power Of Positive Thinking.
Zagreb Hawks finally break through for maiden Croatian premiership.
2014: The original list of sides for the International Cup included Croatia for the first time, but it was ultimately not to be, with the Knights having to wait out another edition. New local club the Slavonski Brod Tigers was formed.
23 teams set for IC14, AFL 9s scrapped.
Slavonski Brod Tigers set to roar in Croatia.
First prowl for Slavonski Brod Tigers..
Footy In Croatia – The never-ending journey to success.
2015: Croatia again hosted the Euro Cup, and a further new local club was created - the Sesvete Double Blues. Women's footy kicked off with the Velika Gorica Mambas.
Croatia To Host 2015 Axios Euro Cup.
Sesvete Double Blues On The Rise In Croatia.
A Pilgrimage From Zagreb To Adelaide.

2016: Big Josip Habljak made headlines in moving from Zagreb to Adelaide to play with SANFL side Sturt. He made waves early, achieving 31 hitouts playing in the ruck for Sturt's reserves in an early-season match against West Adelaide. Domestically, the Zaprude Giants won the Central European AFL, defeating a field of clubs from Croatia, Austria and the Czech Republic.
In promising early signs for the International Cup preparation - the Croatian Knights ventured to the 9-a-side Euro Cup in Lisbon, and won gold.
Croatian "Pain Train" Josip Habljak Reflects On Journey
Josip Habljak to wear Guernsey #50 at Double Blues
Josip Habljak's First Game at Sturt SANFL- The Raw Stats
Croatian Josip Habljak amasses 31 hitouts in game three
Zaprude Giants Take CEAFL Title
Croatian Knights & Irish Banshees Claim Euro Cup Honours
2017: Here we are. Croatia have been formidable opponents for all comers in Division 2 of the International Cup and will be very keen to take the trophy. The Germans know they've got a battle ahead of them on Friday!