Sunday, December 09 2018 @ 10:36 pm ACDT
Contributed by: Wesley Hull
Views: 171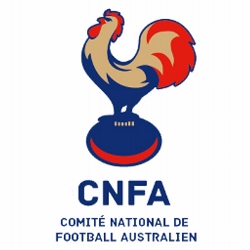 The fourth round of the Championnat de France Léo Lagrange 2018-2019 wrapped up this weekend ahead of the winter break. Round Five will commence in early March. To see out the round, three matches were played in Paris and Bordeaux – each shaping the ladder and making things interesting when footy returns.
In Bordeaux, the ALFA Lions took on the Bordeaux Bombers in a match that was vital for each team's chances of seeing finals action. Each team went into the match with a win and the victor would get the jump on their opponent. The Lions got away to a good start, leading by 14 points at the first change and by 28 at half time.
The Bombers could make no inroads in the second half, down by 49 points at the final change before going down after a late rally by 39 points. The final score saw the ALFA Lions 106 defeat the Bordeaux Bombers 67.