Tuesday, January 27 2015 @ 12:02 AM ACDT
Contributed by: Wesley Hull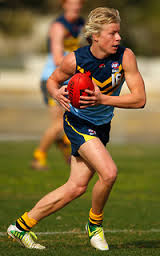 There is an interesting argument swaying back and forth within the AFL concerning the fairness or otherwise of the various talent academies. The following link
http://www.afl.com.au/news/2015-01-26...tem-unfair
describes the pros and cons of having them and whether their very existence undermines the integrity of the AFL national draft.
Of interest to those who look at the game on a more global scale is the idea of whether or not clubs will still be able to rookie international players at will and restriction free compared to indigenous talent in Australia. Will there come a day when AFL clubs will actually need to bid for players, or more dramatically use a high draft selection to obtain international players?
(Left: Isaac Heeney, Picture: Sydney Swans)
There will be some who see this as folly and a flawed way of looking at the issue. Many believe that the amount of, and impact of, international players will never reach that point, therefore it is a moot argument.